Ladner is host to a myriad of on-street, off-street, shared, compact gravel or paved rides and enjoyable destinations, the only thing missing are the hills!
Lay of the land
At its heart, the central destination of Ladner Village with cycle racks at the ready. At its outer reaches are; Deas Island Park and Tilbury Island to the North/North East, Westham Island and the George C. Reifel Migratory Bird Sanctuary to the West, Boundary Bay and Delta Heritage Air Park to the East, and the Ferry Causeway and Tsawwassen to the South. Surrounded by waters edge to our North, West and South East, we have no shortage of dikes to ride. The majority are compact gravel and the longest extends around Boundary Bay between Tsawwassen at Beach Grove to Mud Bay around the foot of Highway 91.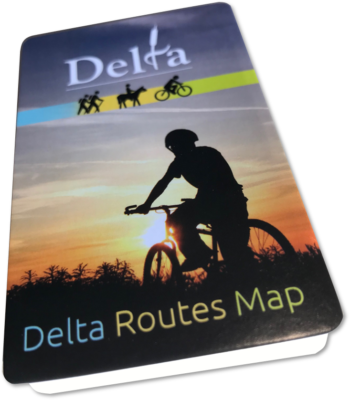 Transport and getting around
By bus, the Ladner Exchange is located at 4645 Harvest Drive at Clarence Taylor Cres. a short ride to the Ladner Leisure Centre. If you have not yet tried the Translink cycle racks, visit Translink Bikes on Busses. Your first tip, "tell the bus driver you want to load or unload your bike". There are restrictions so please do visit the page for a quick read or jump to this video. For visitors and residents alike, the first 'got to have' resource supporting your rides is the Delta Routes Map.  Published and available from the City of Delta, this micro sized pocket map features detailed on-road and off-road routes, picnic, and viewing destinations. On reading we are clearly reminded that Ladner is rich with local farming. Please remain aware of this working community and remember that farm vehicles have the right of way on roads and dikes.
An assortment of destinations
For those looking for adventurous trails, just East of Burns Bog in North Delta are the trails at Watershed Park. For younger riders there's a wonderful facility at Memorial Park Bike Skills Park. Practice using the sample rail crossing, stop lines, slalom and more. For a little more excitement, there's the Holly Park Pump Track, a short man-made circuit with a series of earth berms. For a full list of parks and the features of each, visit Parks and Trails and scroll down to the map and listings.
The City of Delta has continuously invested in cycle resources, often assisted by local businesses and volunteer groups. The Millennium Trail is a great example, most recently boasting a generously paved section from the foot of Ferry Rd., round the back of the new homes at Hampton Cove and the The Links at Hampton Cove golf course. You can close that loop with a ride through residential streets via Admiral Blvd. and Commodore Drive to Ferry Road, stopping at South Arm Marshes. The paved Trail extends West along River Road West to Ladner Harbour Park. To the North, the Trail becomes compact gravel dipping under Highway 99, supporting a stop at the Riverhouse Marina Pub and Restaurant or a ride to its end at Deas Island Park.
There's lots more to tell and we hope the extra links below are useful.
If you have suggestions for specific routes, destinations, or waypoints as well as tips for safety and security, please let us know!